---
My name is Josie, I joined Enhanced in June this year as their Customer Experience Manager. With a diverse background in Op's Management, Customer Services, Business Solutions and Process Improvement; Customer Experience was an exciting step in my career.
The first few months were spent learning about Enhanced, their exceptional company culture and the vast array of IT Business Solutions and Infrastructure Services they provide to their loyal customer base – ambitious companies looking to grow.
Following the first Customer Experience survey, I was thrilled to share with the company directors the excellent scores we had achieved. The challenge was apparent: "How do we go from good to great?".
Social Media vs Reality
Utilising our customer feedback, I'd prioritised areas of the business where I believe we can make the biggest improvement for our customers. After reading articles on LinkedIn and watching various webinars about Customer Journey Mapping, I had grand visions of building a giant wall-filling map where we improved every aspect of the process with colour coded sticky notes and beautiful handwriting! I had downloaded guiding documents, example maps and even a printed "customer crown" to encourage roleplay interactions. The actual outcome: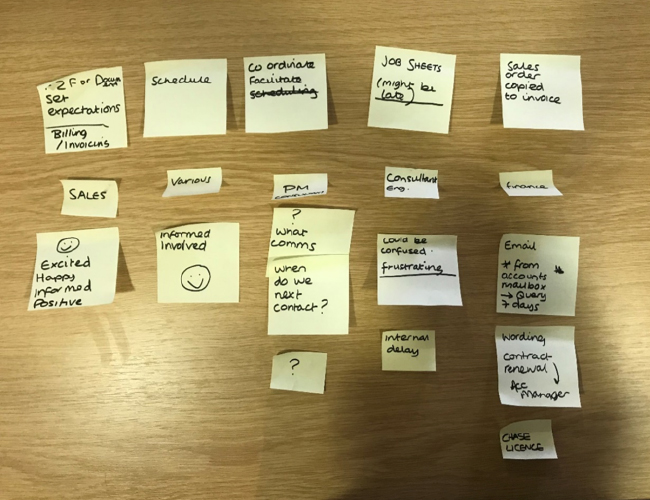 Compared to others I'd seen and researched, this appeared sparse and disorganised. I was concerned that our outcome wasn't pretty, it didn't have all the answers and it wasn't going to transform our entire business immediately. We didn't use the map examples, the customer personas and there were no GCSE-Drama style roleplays.
However, during that one-hour meeting, this map had key stakeholders in the business talking about our processes with the customer in mind, putting themselves in the customer's shoes. It provided a platform for long-standing staff members to raise those minor issues which don't cause harm but equally don't add value.
All was going well, until the comment I've heard many times before; "We raised this years ago, but nothing was done". In previous companies I'd worked for, this challenge would have been the stopping point and a verbal shrug delivered by management. This time it was different. I was extremely proud and reassured to hear our CEO's immediate response "I can assure you, if this impacts our customer's experience, it will change".
We left the meeting with three action points. Three simple process changes which will make a world of difference to our customers, improving clarity, reducing queries and removing unnecessary process steps. We left empowered, our voices were heard. We left excited for the changes and the next mapping session. We left inspired, wanting to work hard to make these changes happen. Most importantly, we left united in our mission to go "from good to great".
Final thoughts
Have we finished our map? No. We still have a long way to go, but I have realised this is about the long game and our journey to become entirely customer-centric isn't going to happen overnight. I'm not even sure the map will ever be completely finished, in this industry our processes should be ever-changing.
Am I happy with the mapping process? So-so. As with all new initiatives, this will take some time to settle in. I'm fully prepared to take learning points from each session and build them into the next. For instance, this mapping session led us to think about the process prior to billing – Sales and Account Management. Eventually, my aim is to connect all of these smaller maps into a larger scale view of the entire customer journey. (Perhaps I will build the elusive wall-filling map after all!)
What will I do differently next time? Put less pressure on myself to obtain the post-worthy 'perfect map'. This is about us, Enhanced. It's great to take learning points from others but ultimately this process needs to work for our team, the most important element is talking and acting. As long as that continues, we are progressing.
What advice would I give to others before completing their first map? Let your team do the talking, they are experts in their field and truly know the business. Cap the session at one hour, leave the team wanting more, this will ensure ideas continue to flow after the meeting and prevent it from becoming an arduous process. Invite someone of influence, this process only works with the support and drive of senior management.
Thank you for taking the time to read my first post. I look forward to sharing our CX journey over the coming months. The challenges, the bumps along the road and (with any luck) our triumphs!
Get in touch with our Customer Experience Manager, Josie Weston, on 01202 308000 or send us a message here, and we will be happy to help.
---