---
Microsoft Business Central is a cloud-based business management solution. The platform helps companies to connect finance, sales, service, and operations teams to a single easy-to-use application. Business Central will unlock insights for each department so your team can adapt faster, work smarter and perform better.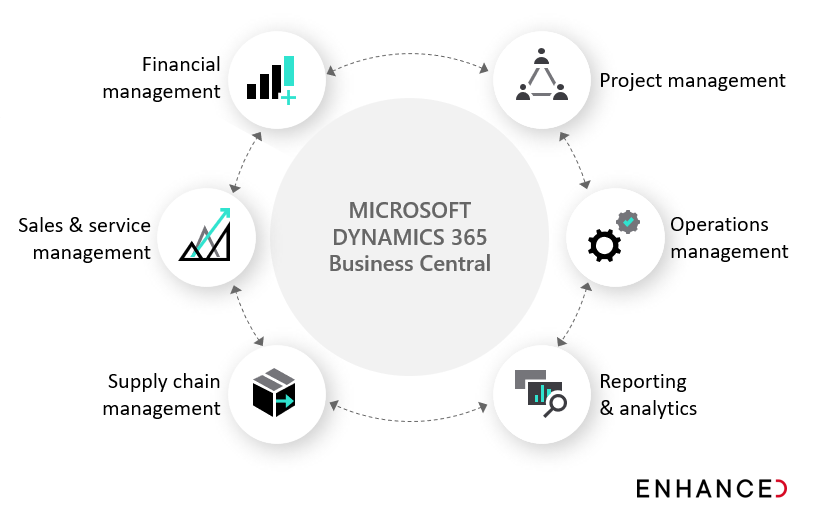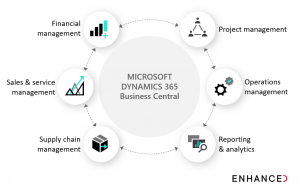 How Microsoft Business Central can support your business.
Connect your teams using a single solution
Microsoft Business Central automatically pulls your systems and processes together. This gives you a more complete picture across your business, with up-to-date reports when and where you need them.
The table below shows how each feature can work alongside you to streamline your business.


Microsoft Business Central Capabilities
Boost sales & improve customer service
Manage your entire sales process all within Microsoft Outlook. This connected service operation delivers a stronger outcome for your business whilst taking better care of your customers.
Unlock productivity & business insights
Have complete insight into your people and processes from one dashboard; decision making made quicker and smarter.
Finish projects on time and under budget
Through planning, resourcing, and tracking all from one dashboard, you can ensure successful project execution. To further optimise your business, you have the capability to track costing, billing, and accounting all from the same view – giving you a full overview of your business and every project.
Find out how Microsoft Business Central streamline Mar-Key group's business, allowing them to double their revenue.
The Main Benefits of Microsoft Business Central.
Adapt Faster
You can adapt new business models as your business grows. The Microsoft cloud solution offers reliability, security, and mobility.
Work Smarter
Get a complete overall picture of your business with easy-to-create dashboards. Proactively inform and guide employees with built-in analytics.
Perform Better
Guided workflows and real-time metrics enable high performance. Driving continuous process optimisation and accelerating financial closes.
How Enhanced can help
Enhanced will work closely with your business to provide the best Microsoft product for your organisation's needs. We take pride in being part of our client's journey and are dedicated to supplying the right solutions backed up by exceptional customer service.
Contact a member of our team today to find out how we can assist your business to streamline your departments and double your revenue stream.
---